This is an Enormous Site
This is an enormous site with a huge amount of help, information and knowledge on how to realize your dreams in music, songwriting, performing, music production. In other words, how to make money with your music.

FRONT PAGE [click above]
(the first page you see helping you to make money with your music]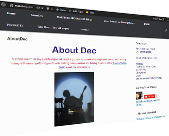 ABOUT DEC [click left]
(tells all about the founder of ' The Serious Writers Guild')

MAKEHITS KNOWLEDGE BASE [click above]
(brings you to Questions & Answers, Archive of 'One Minute with Dec' since 2001, Articles, with enormous music information since 1996)
(direct link to the Articles … wonderful free music help)

(all the products we supply – from 10 month courses to the best 'how to' books on the Music Success Web)

(we are the most contactable Guild in the Music World – try us?)
(if you don't want to contact us direct use our POST page)
This site is dedicated to help
This site is dedicated to help songwriters, music writers, producers, music makers, performers achieve their dream of making money with and from their music.  Even if you make a fortune and don't want to you can always give it away?
Whether you want to just make a living or be the biggest Rock Star on the planet, we can help you realize your dream.
Contact us
…. it's easy!
WHO
(am I?)