"They laughed when I said I would write a HIT RECORD ... but when they heard it in the charts..."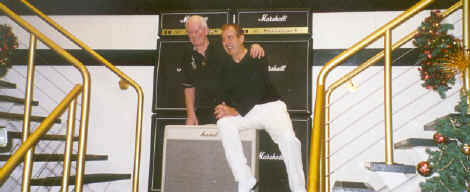 Dec is named one of the ten most influential people in the music industry of the last 40 years.
Presented with a Connolly white leather covered gold Marshall amp by Jim Marshall...the 'guvnor.
From: Dec Cluskey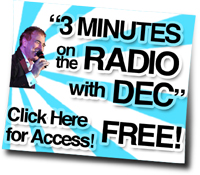 Date:
Dear Music Friend,
So you fancy yourself as a Song Writer, a Mega Star, or possessed with Incredible Music Writing Talent? Maybe you want to produce or compose? If so, this might be the most important letter on the music business you have ever read.
How many times have you been told by friends, family, loved ones that you should be in the Hit Parade? Every time you or anyone else sings your stuff everyone says: "You should be in the charts instead of that rubbish I hear on the radio"
Well, why aren't you?
I'll tell you why...
Because you don't have the first idea how to, that's why! Oh, you might convince yourself that you know all about it (or at least your pal Charlie knows). BUT DO YOU REALLY KNOW?
Trust me, you haven't a clue. But here's the GOOD NEWS:
I DO! And I will help you ... that's a promise.
And I know it all. (Now - there's a title for a song) That's not just bullsh*t confidence ... it's the truth.
I have something exciting to tell you.
Who am I?
My name is Dec Cluskey. You probably know me, respected hit recorder of loads of '60's' and '70's' songs in the UK, USA, Australia, Italy, Germany, France, in fact, the World, with my band 'The Bachelors', with gold million sellers like: 'Diane', 'I Believe', 'Charmaine', 'Ramona' ... so many I can hardly remember myself. Outsold 'The Beatles' in 1964 and 1965 ... TRUE. We were the first band out of Ireland to ever have an International Number One. My records have sold tens of millions and recently Artistes I have mentored and advised have stunning success. We had two in the Top Five at the same time ... just released our 75th [yes, seventy fifth] album.
Would you like to play Central Park, Hollywood Bowl...

would you like to play Wembley, just like Dec and his brother
- Con and Dec, The Bachelors.

With 18 chart Hits, 2 Number Ones,
gold and platinum albums...

they know what they are doing and Dec
can show YOU how to make your dream come true!
Perhaps you have heard my songs or seen me on television. Nowadays, I am also a respected producer, advisor, and have been Trustee of the most prestigious Show Biz Charity Organisation in the world for 20 years.
That's all I'll tell you about me, now over to YOU...
I receive hundreds of demo tapes, CD's, phone calls, emails and letters from writers, musicians, band members, singers, from all over the world. All are desperate to make lots of money from their music. And what's more...
These People All Want E X A C T L Y The Same Thing!
Yep, that's right. Hundreds of different people from all over the country and the world, totally unconnected with each other, all having EXACTLY the same desires! Uncanny isn't it? And yet I'll be prepared to make a little wager that you have the same desires too.
Let me tell you what all music makers (and I mean ALL) want:
Loads and loads of money - plus a lifetime stream of income. You can always give it away, if the idea offends you.
A legal, practical and ethical way of making this money from their music.
A music career which they could run part-time (evenings and weekends) until they proved that it worked, and then move into it full-time.
A music career which they could run regardless of their age, sex or race.
And last but not least, a music 'money making machine' which is FUN as well as being HIGHLY LUCRATIVE with little or no investment.
Sounds pretty good eh? What's that? You wouldn't mind a slice of this action yourself? You see ... I was right all along...
O.K., so all these people call me and ask if I know how they can be successful. And I answer with a letter saying: "Yes, I DO know as it happens!"
Talking to all these people on the phone could be a bit of a chore, I don't mind telling you. Want to know how a busy guy like me manages to deal with a hundred people a week? Simple.........let me tell you this easy trick.....
Next Page 2

Copyright ©2002-2010 MakeHits.com, Dec Cluskey. All rights reserved.